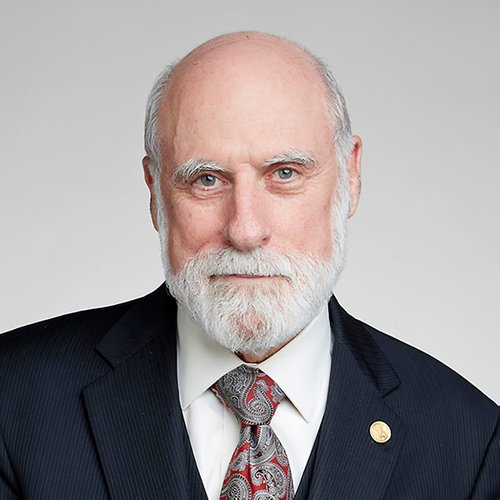 "Father of the Internet" Vint Cerf Takes the Keynote Virtual Stage
Cerf will present "The Evolution of the Interplanetary Internet"
We are honored to welcome a "father of the Internet" and a keynote speaker: Vinton G. Cerf to the NANOG 82 virtual stage! Cerf is a multi award-winning VP and chief Internet evangelist for Google. Cerf will discuss "The Evolution of the Interplanetary Internet."  
Ask your burning questions to the legend himself! There will be a live Q+A session following the presentation. 
Don't miss what is sure to be an incredible conversation!  REGISTER below and check out our new and improved registration system. 
More Cerf: Vinton G. Cerf is vice president and chief Internet evangelist for Google. Cerf has held positions at MCI, the Corporation for National Research Initiatives, Stanford University, UCLA and IBM. Vint Cerf served as chairman of the board of the Internet Corporation for Assigned Names and Numbers (ICANN) and was founding president of the Internet Society. He served on the US National Science Board from 2013-2018.
Widely known as one of the "Fathers of the Internet," he received the U.S. National Medal of Technology in 1997, the Marconi Fellowship in 1998 and the ACM Alan M. Turing award in 2004. In November 2005, he was awarded the Presidential Medal of Freedom, in April 2008 the Japan Prize and in March 2013, the Queen Elizabeth II Prize for Engineering.
He is a Fellow of the IEEE, ACM, and AAAS, the American Academy of Arts and Sciences, the American Philosophical Society, the Computer History Museum and the National Academies of Engineering and Science. 
Cerf holds a Bachelor of Science degree in Mathematics from Stanford University and Master of Science and Ph.D. degrees in Computer Science from UCLA and holds 29 honorary degrees from universities around the world.
---