---
Health + Safety Protocols at NANOG 86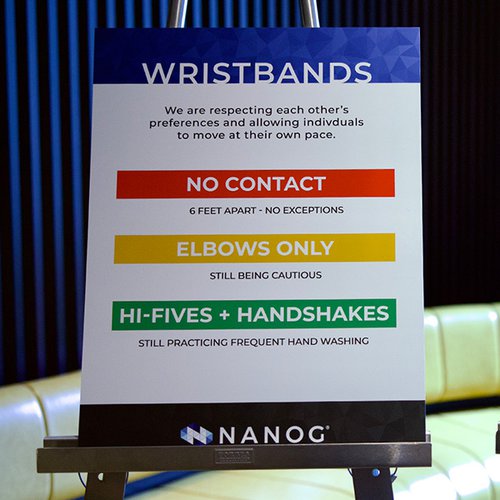 NANOG 86 Meeting Guidelines
The health and safety of meeting attendees is very important to us. We believe the most effective way to ensure the safety of all attendees is to be fully vaccinated against COVID-19 . Please note that proof of vaccination will not be required to attend NANOG 86. Be aware that while NANOG will make every effort to reduce the risk of COVID-19 transmission on site, it is possible that you may come into contact with people that carry the virus through your travels.
---
We will comply with the state of California's guidelines for masking and social distancing. Regardless of vaccination status, masks and social distancing are strongly recommended, however, not required.
---
NANOG will provide color-coded wristbands.
Red wristband / No Contact: 6 feet apart - no exceptions
Yellow wristband / Elbows Only: Still being cautious
Green wristband / Hi-Fives + Handshakes: Still practicing frequent hand washing
---
If you feel uncomfortable traveling to Hollywood and have already paid for the in-person experience you are welcomed to modify your meeting registration to the virtual option with no penalty. If onsite and you become feverish or develop a cough, please stay in your room and notify [email protected] to report your illness and seek medical attention.