NANOG Hackathon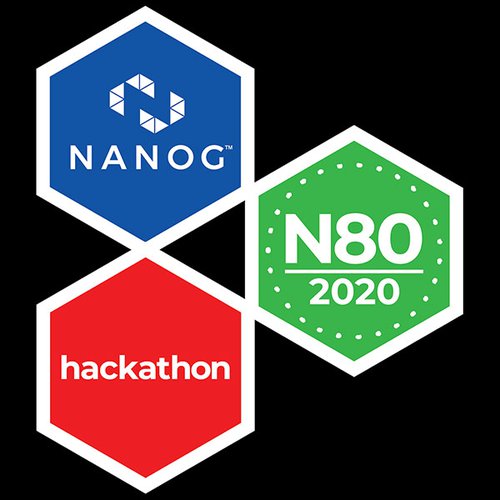 Welcome to the NANOG 80 Hackathon — Saturday + Sunday, October 17-18, 2020.
An essential part of NANOG conferences, our hackathons are hands-on, and designed to be both fun and engaging, as well as a platform to build community and foster greater networking knowledge. NANOG Hackathons are educational at their core, and directly support the most critical aspects of our mission.
Please take a moment to review the Hackathon Terms and Conditions.
Join many of the brightest minds in our community at the NANOG 80 Virtual Hackathon. Our first all-virtual hackathon kicks off Saturday, October 17 at 1:00 pm EDT — the weekend before the NANOG 80 conference. As always, participation is free, and open to all who register.
Have a problem you're hoping to solve? A new technology or language you'd like to learn? Or maybe a daemon to write for your favorite routing protocol, just for the fun of it? Utilizing collaboration services from Zoom and Slack, hackathon participants can work individually, or self-organize into teams to work on software passion projects.
Prior to the hackathon, you'll receive an invitation to our Slack workspace so you can begin collaborating. Hack mentorship will be provided throughout the day of the event, and help will also be available on Sunday, 10/18 from 12:00 pm EDT through the close of the hack at 5:00 pm. All who participate will have an opportunity to present their work (presentations will end around 6:00 pm). 
If you'd like to participate, but aren't sure where to start, please reach out to us: [email protected]. We have lots of topic ideas to share!