Navigating your member profile
Navigating your NANOG member profile
From time to time you'll need to use your NANOG member credentials to access certain features of NANOG membership. The following instructions will help you navigate through the NANOG member profile. Please feel free to reach out to us at [email protected] if you experience any difficulties once you've reviewed the instructions, and a member of the NANOG staff will be happy to assist you.
---
To access your NANOG member profile visit https://nanog.org/profile/ or click the "Sign In" button near the top right corner of any page on the NANOG website. A sign-in window will appear. Please enter the username or email address tied to your account, and your password, then click "Sign In". Once you are signed in, you will be able to make edits to your profile as outlined below, or access other pages of the website which are dependent upon NANOG membership to view.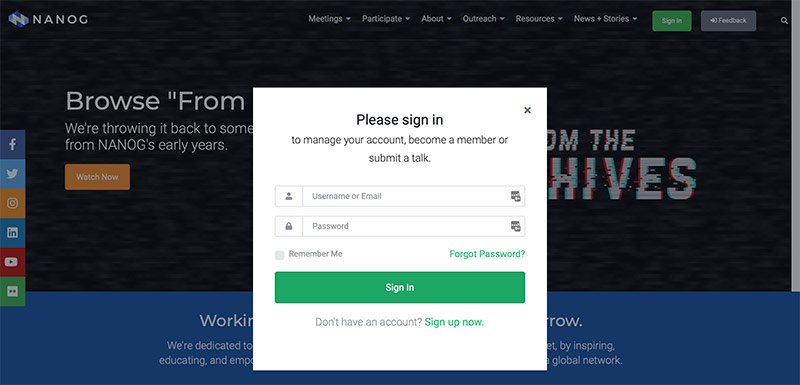 ---
Once you're signed in, click on the My Profile item in the top menu bar to view your account + options as listed under the Account Tools menu.

---
Clicking on "My Profile" will navigate you to a new page, which lists your username, contact information, biographical information, and preferred emails. When an election is live, there will also be a link to the ballot. Clicking on the "Edit" button next to any of those sections will allow you to update your details at any time.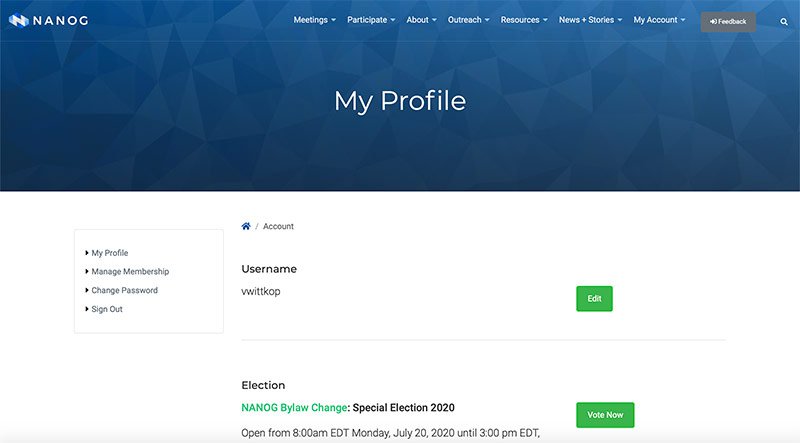 ---
Clicking on "Manage Membership" link in the sidebar will allow you to view the current status of your NANOG Membership; including expiration date, and instructions to renew your membership, if applicable.