NANOG Mailing-List Usage Guidelines
NANOG Mailing-List Usage Guidelines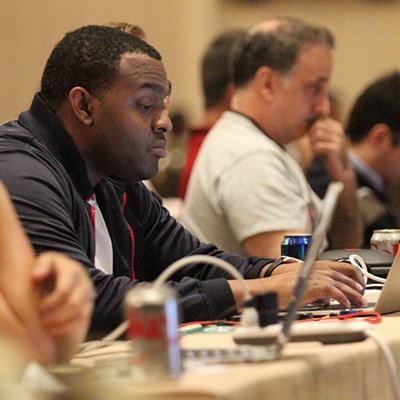 The NANOG Mailing List is a community-moderated forum, open to all. Established in 1994 to provide the open exchange of technical information, it provides the opportunity for lively discussions of specific implementation challenges that require cooperation among network service providers. All posts public and archived.
In order to maintain a welcoming and diverse forum, built on an open, authentic, and collaborative approach, we ask that all NANOG Mailing-List users agree and adhere to the following guidelines:
Posts to NANOG's Mailing List should be focused on operational and technical content only, as described by the NANOG Bylaws.
Posts should be thoughtfully crafted for an audience of more than 10,000 Internet-networking engineers, operators, and architects in our community.
Postings of content inconsistent with the NANOG Bylaws is prohibited.
Cross posting is prohibited.
All subscribers to the Mailing List must adhere to the NANOG Code of Conduct.
Behavior or posts that are defamatory, abusive, profane, threatening, or include foul language, character assassination, and lack of respect for other participants are prohibited.
Using the NANOG Mailing List as a source for private marketing initiatives, or product marketing of any kind, is prohibited.
Posts of a political, philosophical, or legal nature are prohibited.
Posts of information or material protected by copyright without express permission of the copyright owner are prohibited.
Do not quote or forward messages that were sent to you by other people in private mail, unless agreed beforehand.
Auto-response posts to the list, or other users, are prohibited. This includes "out-of-office" or "vacation" messages, as well as notifications from ticketing/issue-tracking systems.
Use caution when posting product information — posts are visible to our entire community, and comments made in any post thread are subject to libel, slander, and antitrust laws.
Posts that encourage or facilitate NANOG community members to arrive at any agreement that either expressly or implicitly leads to price fixing, a boycott of another's organization or business, or other conduct intended to illegally restrict free trade, are prohibited.
Posts that encourage or facilitate an agreement about the following subjects are inappropriate: prices, discounts, or terms or conditions of sale; salaries; benefits, profits, profit margins, or cost data; market shares, sales territories, or markets; allocation of customers or territories; or selection, rejection, or termination of customers or suppliers.
The Mailing List is not an appropriate platform to resolve personal issues, engage in disputes, or file complaints.
"Thank you" and "me too" messages should not be posted to the mailing list — send these directly to the individual you're responded to.
Any user who would like to be removed from the Mailing List should contact us at admins [at] nanog.org
Enforcement of Guidelines
NANOG's Mailing List is community moderated in adherence to these NANOG Mailing-List Usage Guidelines. Any subscriber can report a violation of these guidelines. While NANOG trusts subscribers to adhere to these common-sense guidelines, we also reserve the right to reject or remove any inappropriate posts brought to our attention, and to terminate access to any user who does not abide by these guidelines.
Violations will be handled as follows:
Any user found in violation of these guidelines will be formally warned via email, and is expected to comply.
After two formal warnings, the user will be restricted from using the Mailing List for 90 days.
If the user further violates the Mailing List Usage Guidelines after the 90-day suspension period ends, they will be permanently removed from the Mailing List without further access.
How to report a violation of these guidelines:
Subscribers who are subject to or wish to report a violation of these guidelines should contact us at admins [at] nanog.org. All reports will be handled in the strictest confidence.
---
NANOG is not responsible for the opinions and information posted to the NANOG Mailing List by others. NANOG makes no representations or warranties with regard to information posted to this list serve, including, with respect to the accuracy or completeness of the posting, whether posted by NANOG or a third party. NANOG disclaims all warranties, express or implied, including but not limited to implied warranties of merchantability and fitness for any particular purpose. Users agree to use the Mailing List at their own and sole risk.
Please contact us at admins [at] nanog.org with additional questions, at any time.